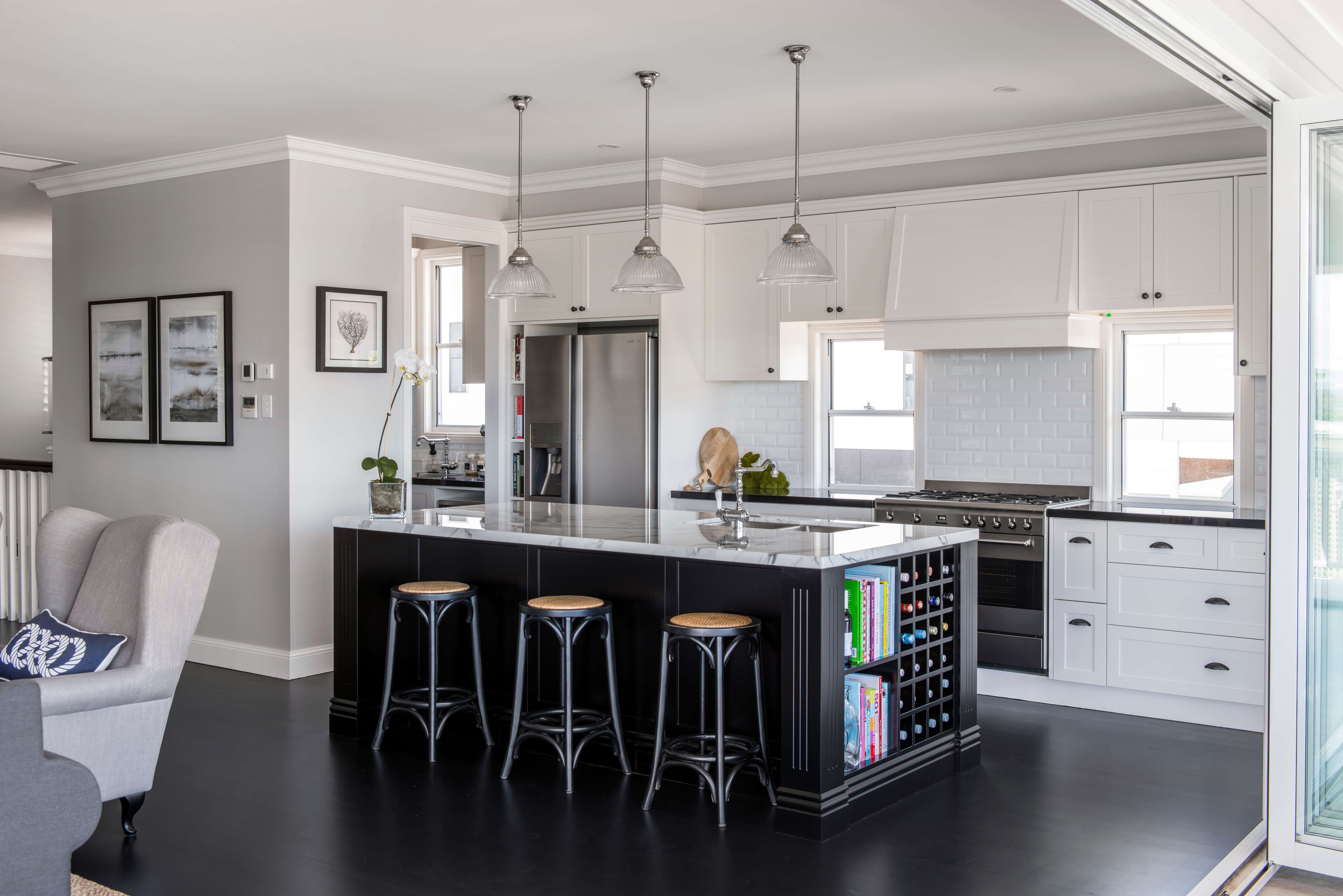 Is your kitchen space feeling a little cramped? Wish there was just a bit more space to move around? No matter what size your kitchen is, chances are you wish it was a little bigger (or at least looked a bit bigger).
Luckily, you don't have to spend thousands on a remodel to create the illusion of a roomier kitchen. These ways to make a small kitchen look bigger are the only tricks you need to know.
Kitchen Colour Ideas for Small Kitchens
A simple way to give an impression of space is with a smart colour scheme. Light colours are best for making a room appear bigger and brighter as they reflect light. Dark colours, on the other hand, tend to absorb it.
Try pairing soft tones together such as whites, creams and light blues, and avoid harsh contrasting colours.
Light is key for opening up space, so remove any curtains from nearby windows and consider installing additional lights under cabinets and benchtops.
Backsplash ideas for small kitchens: Why not try a mirror splashback to add reflective light? Use a tinted glass if you prefer something a tad subtler.
Decluttering Ideas for Small Kitchens
It's no surprise excessive clutter will shrink up the available space in your kitchen. A neatly organised room – with everything put away where it should be – will open up the area nicely.
Keep décor simple, and put away any clunky appliances. Clean lines and minimal clutter on benches and the floor area will work wonders for a confined kitchen.
Cabinet Ideas for Small Kitchens
Cabinets take up a considerable amount of space in the kitchen, so it's essential to choose the size and style wisely. You don't need to stick with the cabinets the kitchen came with. Custom-made cabinets are the best way to achieve maximum functionality without compromising on space.
Opt for slimmer or more shallow cabinets to free up some room. Alternatively, you can also try replacing the cabinet doors with glass or even removing them altogether.
A&T Cabinet Makers in Brisbane creates beautiful tailor-made cabinets to suit your style, space and budget. Get in touch today to receive a free quote.