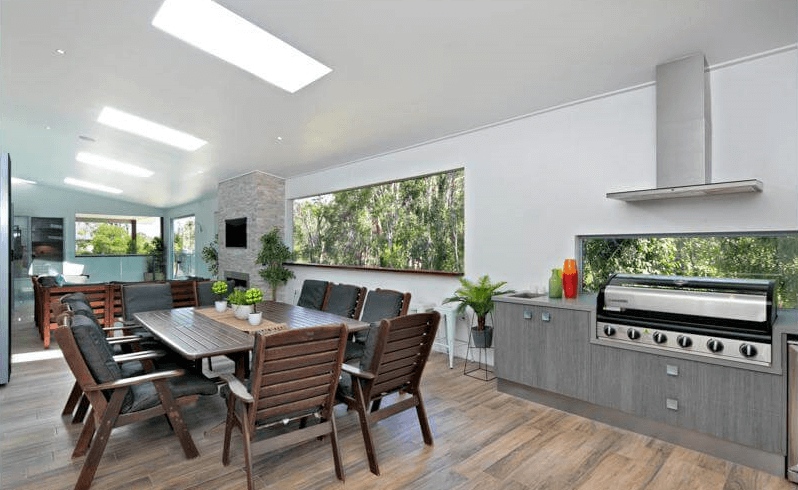 Thinking of building an outdoor kitchen? More and more Aussies are learning the joys of cooking and entertaining in an outdoor kitchen or BBQ area in their own backyard.
Whether you're building a new house or renovating the one you have, an alfresco kitchen is the perfect way to make the most of your outdoor space and add value to your home.
Create a functional and enduring outdoor kitchen with these 9 design tips.
1. Make a Budget and Stick to it
Your budget is one of the most important factors to consider when building an outdoor kitchen. Set a realistic budget at the start of your project for a clear idea of what you can spend (and less temptation to impulsively splurge on that lavish marble water feature).
Make a list of areas you're willing to cut costs (e.g. you might be happy to go with a cheaper tile option) and the ones you won't compromise on (e.g. you might really want to use a particular appliance brand).
2. Plan Your Layout Based on Use
Functionality is key for your outdoor kitchen. You want to create a space that's compatible with your lifestyle, and this starts with the layout.
When designing the layout of your alfresco kitchen or outdoor BBQ area, think about how it'll be used and the number of people you'll be cooking for. Consider a few of your favourite outdoor meals and make sure your outdoor kitchen will be able to handle the prep and cooking while accommodating your guests and any foot traffic.
3. Consider What Appliances You'll Need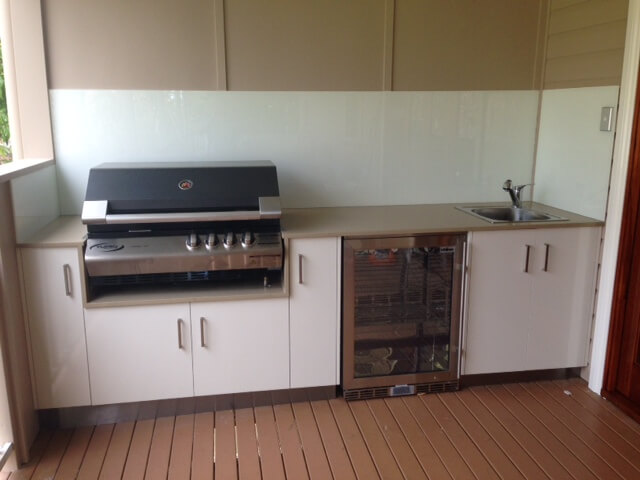 What's your favourite method of outdoor cooking? While nothing beats a good BBQ, there are endless appliance options for your space – from outdoor ovens and stovetops to rotisseries.
Your cooking style should influence your choice of appliances – and your appliances will generally determine the size and layout of your outdoor kitchen.
4. Don't Forget Storage Space
Just like your kitchen inside, you'll need somewhere to keep all your pots, pans and other cooking utensils.
Consider how much storage space you'll need to keep your outdoor kitchen organised and clutter-free, and whether or not you're happy to store cooking equipment inside and bring it outside as needed.
5. Work with the Existing Surroundings
Building an outdoor kitchen is a great way to expand your indoor living space – but it's important your outdoor kitchen works with the existing style and landscape of your outdoor space and surroundings, too.
For example, if your outdoor area has a pool, palm trees and a Bali-style hut, you might like to choose materials and colours that complement the tropical feel for a cohesive look.
6. Make it Useable all Year Round
Why limit your new alfresco kitchen or outdoor BBQ area to summer use only? With some forethought, you can design an outdoor kitchen that can be enjoyed season after season.
With design features such as shelter overhead, an outdoor fireplace and ceiling fans, you can be comfortable in your outdoor kitchen all year round.
7. Build with Durable Materials
Durability is key for anything used outdoors, so you should be looking for tough and enduring materials that can withstand the weather.
Opt for weather-resistant cabinetry and benches and protect your BBQ and other appliances with covers.
8. Make it Easy to Clean and Maintain
Along with being durable, you'll want your outdoor kitchen to be easy to clean. Choose grease-resistant materials for benches and apply sealant to the timber, concrete or stone floor to reduce the risk of stains.
9. Create Ambience with Lighting
To really make your outdoor kitchen pop, why not add some funky lighting? Whether you opt for trendy pendant lights or glowing LED lights under your kitchen benches, there's nothing like some strategic lighting to catch the eye and set the mood.
Get inspiration for your dream outdoor kitchen design with our gallery of custom outdoor kitchens.